All too eagerly, the concerned parentals of contact sport athletes are laying down the law in terms of administration.  In the wake of chronic traumatic encephalopathy (CTE) and other sports related trauma, the "softening" within the sports sphere is something ESPN and countless other institutions are keeping their thumb on.  Like cigarettes in the 50's, the long term side effects of being a competitor are only surfacing now, changing the game season after season. While the researched science stands, the athlete spirit stands even taller.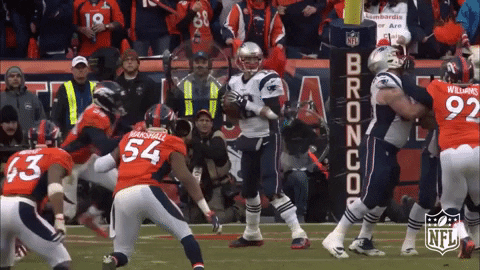 It boils down to sacrifice and the trade off that comes with any commitment in life.  Decision making always requires a devotion to option A and a neglect for option B.  When it comes to sports, especially ones that require a god forsaken mouth piece, the sacrifice only grows in scale and severity.  All too often we see the careers of hockey, football, and basketball players cut prematurely due to the materialization of the risk they knowingly expose themselves too.  As athletes lace up for game day, they submit their ballot into the Emergency Room lottery, a reality that my first and only lacrosse coach made sure to vocalize.  The weathered yet venerable varsity athlete, Italian as a meatball, used to preach the ideal that true athletes "will always sacrifice their bodies for the sport that they love."  Crude and crippled, the renaissance man that was my coach always managed to deliver locker room substance better than he could muster a winning record and for the kid more prone to chasing butterflies than charging on a fast break, I thank him.
Of course, the bodily sacrifice that comes with sporting could have always been avoided.  For my right-brain dominant peers, the ones who opted for choir or the string quartet, the risk was certainly mitigated.  Excluding a rogue bow to the eye ball or a brass horn infecting the second chair trumpeteer with tetanus, the physical sacrifice that comes with the "sport" that they loved was almost nonexistent…that is, until they reached stardom.  While the NFL career of first down running backs is averaged to be less than an undergraduate degree program, the self affliction that true rockstars expose themselves to is enough to leave Adrian Peterson asking for a water break.  Rockstars have no shortage when it comes to passion, so my high school lacrosse coach will certainly see the logic that todays musicians employ when it comes to their daring and dastardly on-stage performances.  What was once a sterile and sheltered rehearsal room has since transformed into a mothers worst nightmare, a public anatomical sacrifice served best in the form of the iconic STAGE DIVE!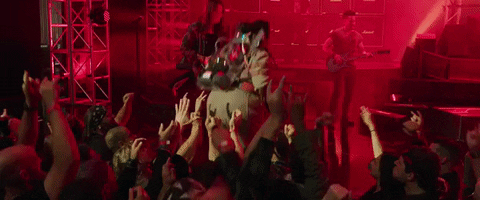 The talentless aerial maneuver is nothing to shake a finger at, as trusting the upper body strength of a crowd of strangers requires a fair amount of cock and balls.  While the rockstars sacrifice has always been manifested through the sex, drugs, and rock & roll lifestyle…some artists still flush their adrenal glans via center stage trust falls.  Popularized by countless artists from nearly every genre of music and soul, the stage dive has solidified its berth in the rock and roll hall of fame and is likely to be recieve perpetual glorification by envelope pushing artists.  You see, whether you are an opera singer, rapper, yoddler, or pianist the thirst for rock-stardom is often appeased through unwarranted hype in the form of masochistic physical expression.  At the end of the day, music, more specifically live music, has always been about the connection between artist and fan.  For that reason, the stage dive is the pinnacle of musical transmission, as the performer exhibits unearthly trust upon a sea of strangers.  Yes it is very bad ass and yes it is done for the love of the game.
When deciphering this blood sacrifice, Lil Uzi Vert comes to mind in todays neo-rock era.  More fit to headline Cirque du Soleil, the purple haired Tour Life singer has wowed the festival scene with breath taking theatrics.  Like a WWE star, his leaps off the top rope epitomize the stage dive in all of its perilous glory.  Luckily for Uzi, his fans are of the die hard nature, a batch of millenials who will catch him (and his admittedly shitty rhyme scheme) on command.  His successful dives, more in line with that of a kamikaze pilot, has fostered and supported his reputation for being a must-see performer.   His viral videos of 30+ foot free falls has yet to be tarnished with a failed attempt to fly.  To put it simply, artists get caught.  But fans making the leap of faith?  Not a guarantee.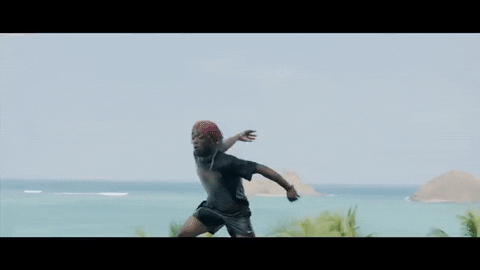 Headlines flared after Travis Scotts "Days Before Birds Tour" NYC show ,after a hankering and inebriated super fan trusted the first floor spectators to catch him as he tested the laws of gravity from floor two. Unsurprisingly, what was supposed to be a swan dive resulted in a belly flop as the man penetrated the opposable thumb surface tension and was met with hard concrete.  The music cut and Travis parted the crowd like a psuedo Moses, splitting the Red Sea to make room for the medics. The blogs later reported that the aerial assault resulted in waist down paralysis, a heinous ending to what was supposed to be a moment of glory.  As I sit an try to empathize – triggering my over zealous gag reflex reminiscent of my mouth piece days – I find it hard to imagine the immobilized fan would hashtag #NoRegrets in the inevitable emergency room Instagram.  What I can imagine however, is Coach Rigattonis half time speech, explaining that "we sacrifice our bodies for the sports we love."  Most people won't reach the professional level of sport nor music, so it isn't too far fetched to appease the fan who still lives the rockstar life from the comfort of the rafters.  Even if he isn't on the playbill, he is still adhering to his hip hop heart.
Passion is a powerful thing, more momentous than a 220lb defenseman charging from midfield can ever be. We often find that passion is the predecessor and successor of all of our actions, as love for the game is paramount to the trials and tribulations it puts us through.  Under that logic, it's safe to assume that stage dives will never stop. When the 808s or vocals kick in on your favorite hip hop anthem or when the lacrosse ball comes hurtling at your rib cage like a god damn locomotive, you better believe the true believers will let Jesus take the wheel.  It's a testament to the overwhelming love some people find in some places.  In the very best of scenarios, a person finds their true undying passion and pledges a complete devotion into that vertical.  A Shakespearean romance novel of sorts, these are the Romeos drinking Juliette's leftover poison, for without her, life is not worth living.  That young man is paralyzed for what will likely be life, but one day I'm sure he'll manage to smile as he can say confidently, that he at least used his time to truly live and embody his passion. We all make sacrifices. While the stage dive isn't exactly equatable to jumping in front of a bullet, it's certainly on the same plane as a round of Russian roulette.  For some, that is a risk they are more than willing to take!